Originating from physiotherapy, having been used successfully to improve injury rehabilitation, Electro Muscle Stimulation has been developed, improved, and adapted to become an integral part of modern training programs. Since its introduction to exercise plans, EMS has accelerated body fat burning and increased muscle size and strength. In addition, athletes have seen improvements in vertical jump height and running speeds.
Rapid workouts combine high-quality personal training with EMS technology to produce exceptional results within specific muscle groups. With workouts lasting just 20 minutes, the EMS vest stimulates muscles at different intensities, replicating a workout that has lasted much longer and worked the body a lot harder.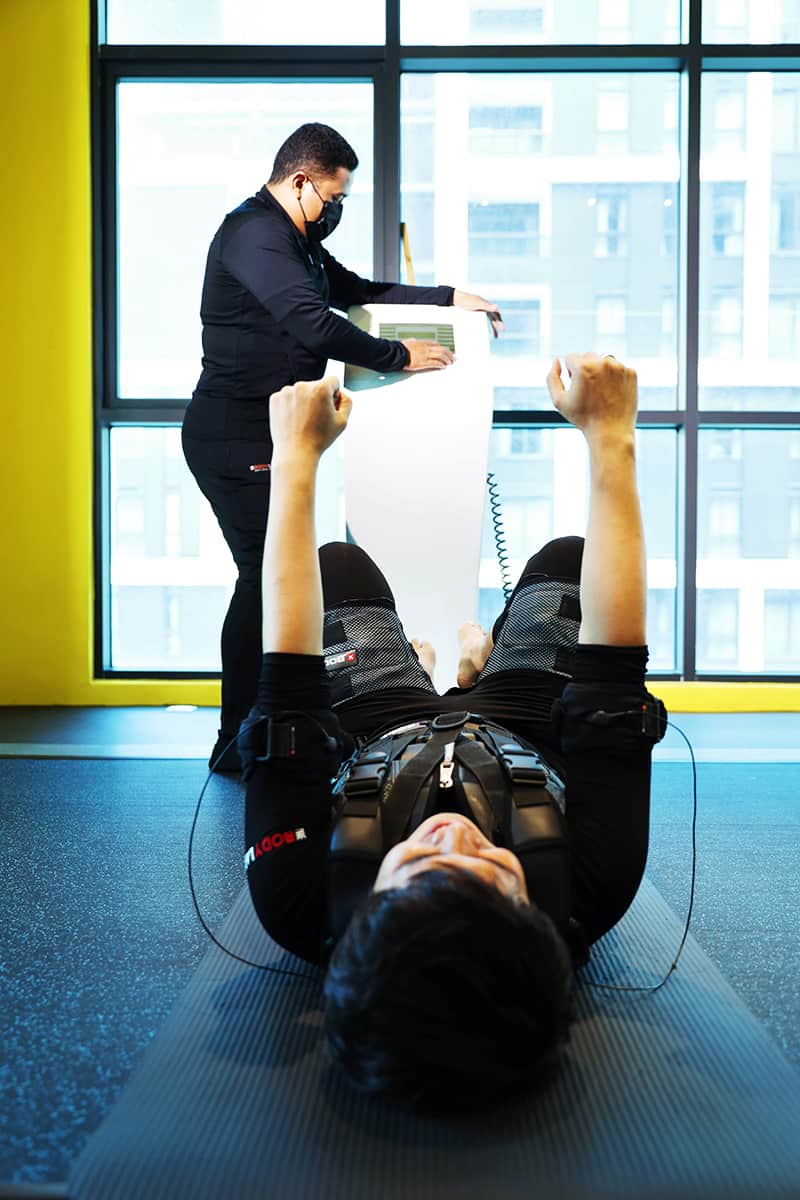 Dynamic & Static Exercises
Targeted Muscle Groups or Full-Body
Simulates 90-minute+ Workouts
Varied & Interesting Sessions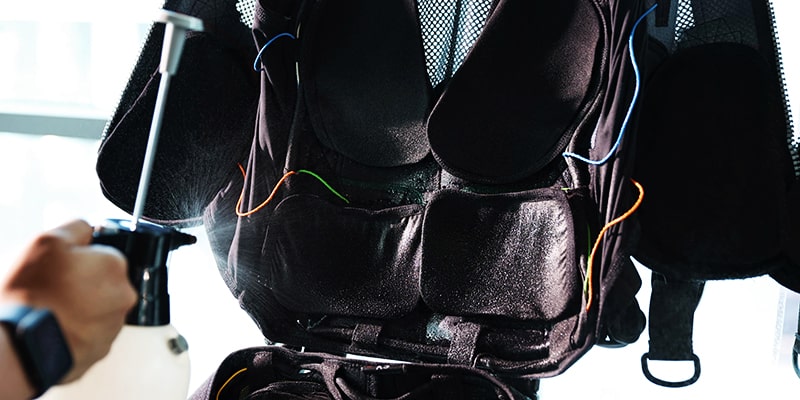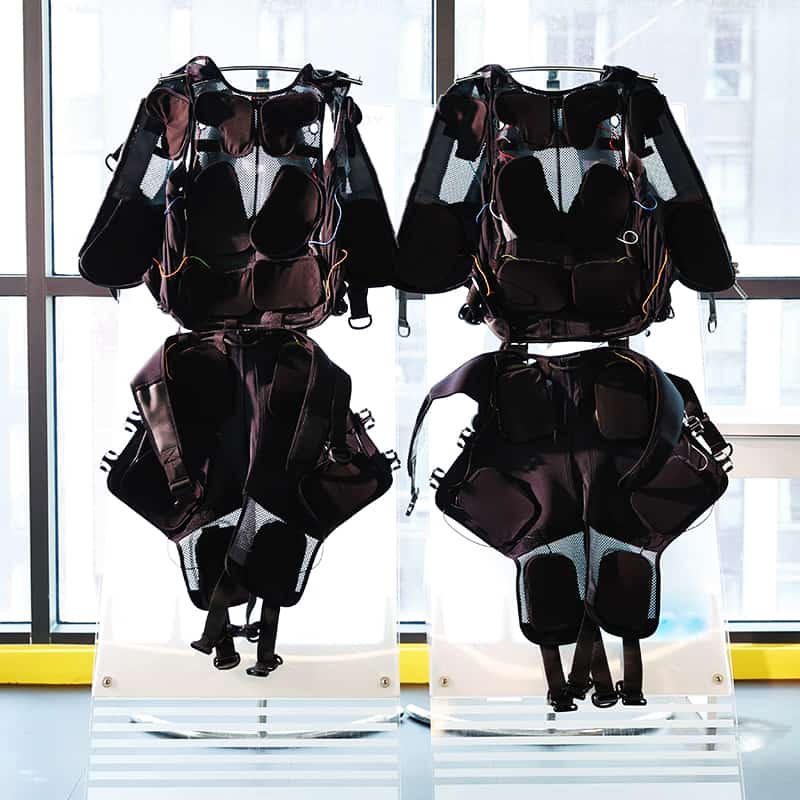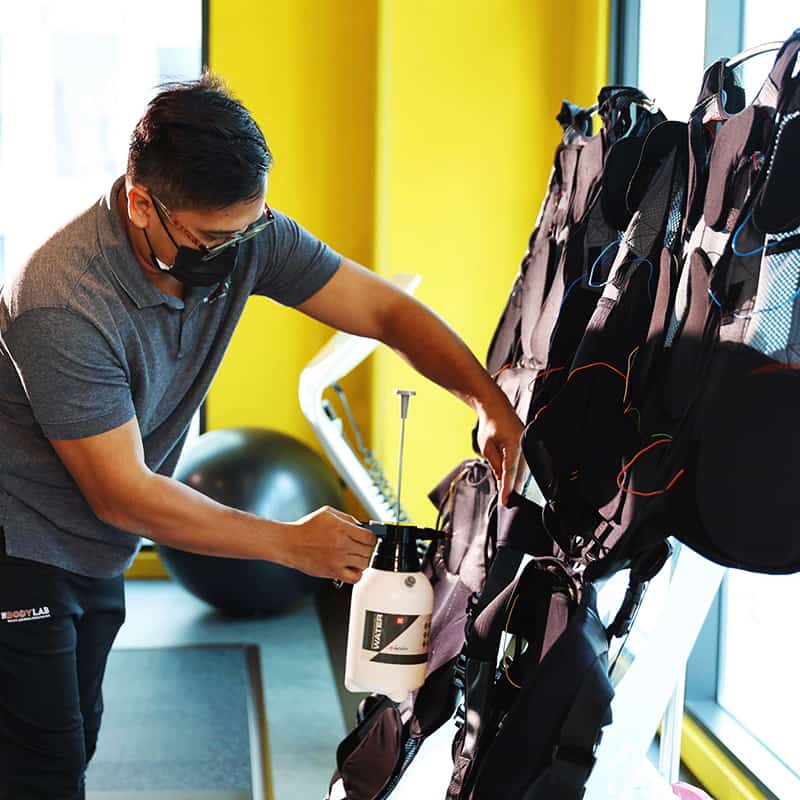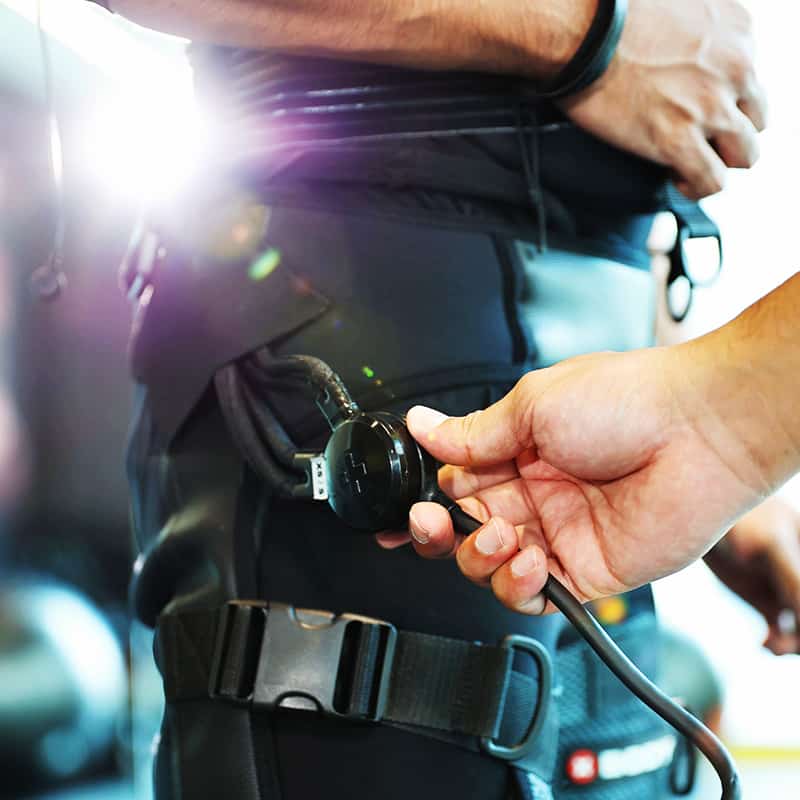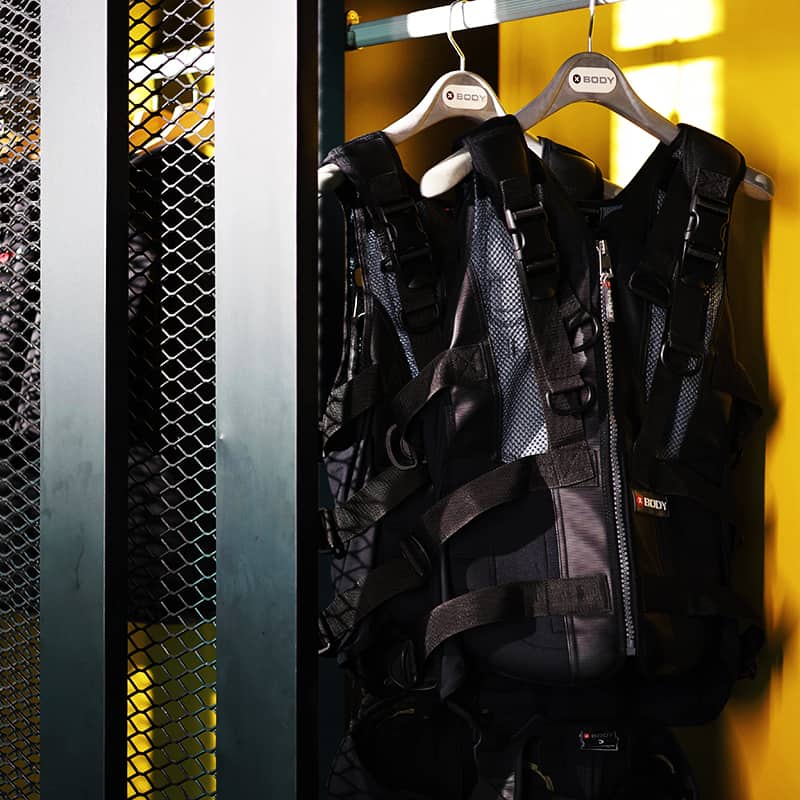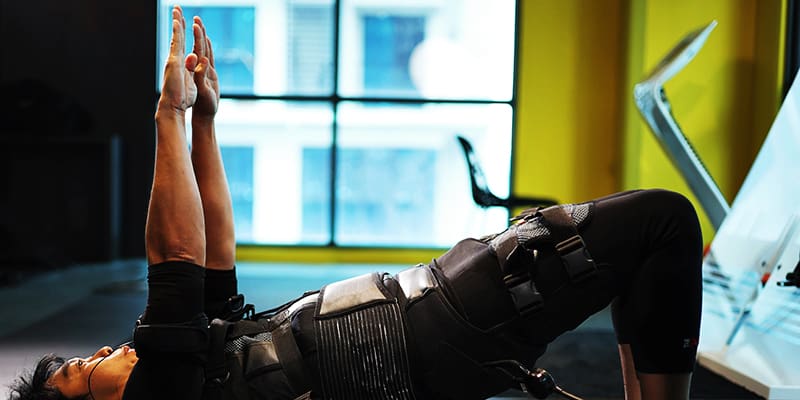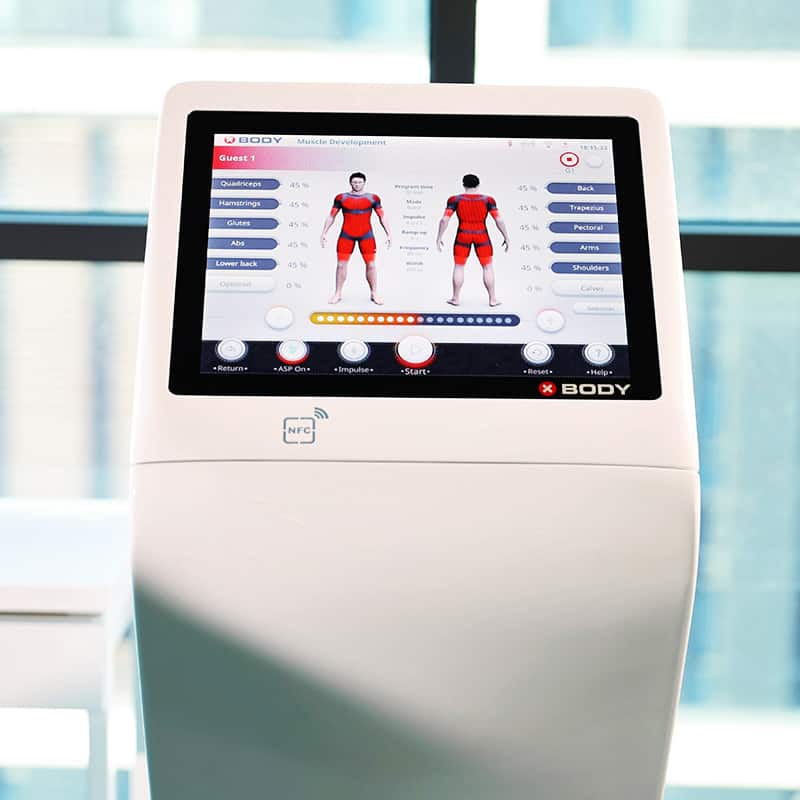 Who Can Benefit from EMS Training?
We're experts in EMS – no matter your age, gender, current fitness levels, or goals, we can create a personalized plan and help you improve. Although, we do suggest people with certain medical conditions avoid EMS training, including cardiovascular disease (particularly if you have a pacemaker), pregnancy, neurological disease, cancer or tumors.
For any age group, gender and fitness level.
EMS Fact #01
Promotes Calorie Deficits
The EPOC effects after EMS Training help the muscle to increase higher metabolism that increases calorie consumption and energy expenditure during recovery which promoted calories deficit by higher calorie usage.
Sensors (Basel), 2011; 11(2); 1932-1942
EMS Fact #02
All-In-One for 20 Minutes
The session consists of different impulse which trains the body according to the 5 component of fitness (Cardiovascular Endurance, Muscular Strength, Muscular Endurance, Flexibility & Body Composition) within a 20-minute training session.
Evidence-Based Complementary and Alternative Medicine, vol. 2016, Article ID 9236809
EMS Fact #03
Saves Time, Safer on the Joint
The session only needs 20 minutes per session 2 times a week which equivalent to 5 days of routine training intensity and the training doesn't need extra overload weight to increase the muscle mass.
World Academy of Science, Engineering and Technology International Journal of Sport and Health Sciences Vol:9, No.12, 2015
Your Workouts Will Never Be the Same After EMS
Join the body lab to experience the best EMS personal training, become part of a community, and enjoy going to the gym once again.
Frequently Asked Questions
Let's get some answers to the most often asked questions before you start your EMS journey.
How do you get a perfect body with EMS Training?
How can you get your dream body with The Body Lab?
EMS Training increases muscle mass and burns fat.
Personalized program based on your goal.
Personal progress tracking.
Visible results after 10 sessions.
Why EMS Training is a good choice to put in your training program?
With just 20min, you can achieve alot of benefit.
Less Time Needed
Only takes 20min/session.
2x a week training frequency.
More time for your family and your hobbies.
Safest way to apply Strength Training
Higher intensity training can be applied without using overload weight.
No stressing out your joints & tendons.
Develop a greater muscle movement performance.
Our Endurance Training is equivalent to a 21km running course
Vibrations and stimulations will be applied to your muscles, similar to a non-stop movement workout. This will result in enhancement of your overall muscular endurance.
Can be done with Static and Regression exercise movements  (Assistance will be provided to those with mobility issues).
The Impulse help improve Body Function
Better blood circulation which helps in a faster fat burning process.
Helps reduce the bad stress hormones.
More active muscular reactions.
There are many other benefits to be discussed, and it is preferable if you can experience them yourself.
What to expect during EMS Training?
Full muscle contraction.
Body weight workouts feel like a marathon.
EMS drains water.
Muscle soreness.
Is EMS Training effective for weight loss?
Yes, it is truly possible to loss weight by using EMS training only.
There are many scientific research to back up this point.
It increases body metabolism
By training total body muscle at once. 90% of muscle contractions will be involved in 1 single movement.
Burns up more calories
You'll use up to 500kcal during a single training session.
In EPOC state, it will use up to 2000kcal in 48hours,  similar to a 3-day weight training session.
Well balanced muscle development
Weak or underdeveloped muscle areas will have fair and well distributed tension.
Improves overal muscle performance.
Higher depletion of body water
You will sweat a lot.
Similar to running for 10-21km on a consistent speed.
Is EMS Training safe?
Yes! It is very safe for the human body.
The Impulse Wave is similar to CNS impulse.
It acts as the same as a voluntary muscular contraction.
The Impulse only affects skeletal muscle and not internal organs.
It will also not create any unnecessary  tension to your joints & tendons.
Similar to lifting weights, the Impulse is enough to create any muscular tension.
Extra overload is not required during a workout session.
The device has built-in safety mechanisms.
It can control the distribution of muscular tension by body parts.
It's suitable for everyone.
A qualified EMS trainer will provide a free consultation before any session to optimize for the best results.
EMS training however is not suitable for pacemaker users, pregnant ladies and anyone with blood related illnesses.
Why EMS Training is the best option for you?
Time saver.
Suitable for all age groups and fitness levels.
See results in shorter period compared to conventional workout routines.
Why The Body Lab is the most convenient studio ever?
We provide every tools, equipments  and attire from head to toe.
Suitable for anyone with an active and busy lifestyle.
Sport attire is not required.
Barefoot training zone.
20-minute workout, saves time with fast results.
The advantages and benefits of joining The Body Lab
We pride ourselves with The Body Lab EMS Signature Training Program.
Visible result is a MUST!
Reassessment every 1, 5 and 10 sessions.
Scheduled body measurements and analysis.
Meal monitoring system.
Berapa banyak kalori digunakan bagi satu sesi latihan EMS?
Perkara yang selalu dipertengahkan dalam proses pengawalan berat badan adalah kalori. EMS terkenal dengan kadar pembakaran kalori yang tinggi dalam satu sesi latihan.
Semasa latihan, kalori yang digunakan adalah dalam anggaran 400-600kcal, sama seperti latihan berintensiti tinggi yang lain.
Yang menariknya tentang EMS ini adalah "post recovery stated" atau pn EPOC nya. Ianya mengambil masa 48-72 jam bersamaan dengan latihan 5 hari berturut-turut.
Menurut Kajian, EMS terbukti menaikkan "Fatique Level" otot sehingga 15% dari biasa & otot akan lebih aktif dalam tempoh ini. Dimana badan memerlukan lebih tenaga dalam proses pemulihan.
Atas faktor ini, kadar pembakaran kalori bagi satu sesi latihan EMS boleh mencapai 2000kcal dalam tempoh 48 jam.
Jika anda melakukan latihan lain juga semasa tempoh rehat latihan EMS, kadar metabolisma badan anda akan lebih tinggi dan kadar pembakaran kalori akan lebih banyak.
Book A Free Full EMS Session
We value your privacy, comfort and time.
Get The Body Lab VIP member experience when you book your free trial session. Enjoy our facilities, meet our trainers, and discover why EMS is the future of your workouts.